CCPC is an active faith community!
Share our enthusiasm in one of the following ways:
Fundraising Auction
by CCPC
on May 25, 2022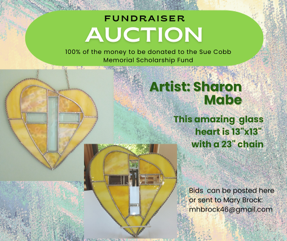 CCPC Fundraising Auction
to benefit the Sue Cobb Memorial Scholarship Fund
In light of the recent tragedy of what happened in that Texas school,
it is all the more meaningful to look for things we can do to help our children.

Here is one of them - Sharon Mabe graciously offered to give 100% of the proceeds
from this beautiful glass piece to the Sue Cobb Memorial Scholarship Fund.

At the Adult Ed class when Sharon presented the idea, Karen Todd started off bidding at $100.

6/22/22: Latest bid is $175
See below if you want to beat that!
Please call/email Mary Brock to submit your bid.
Use 'mhbrock46 at gmail.com',
or her contact information from the latest Caller, in the AUCTION section.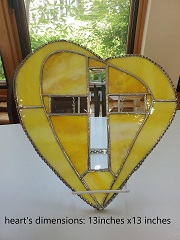 back