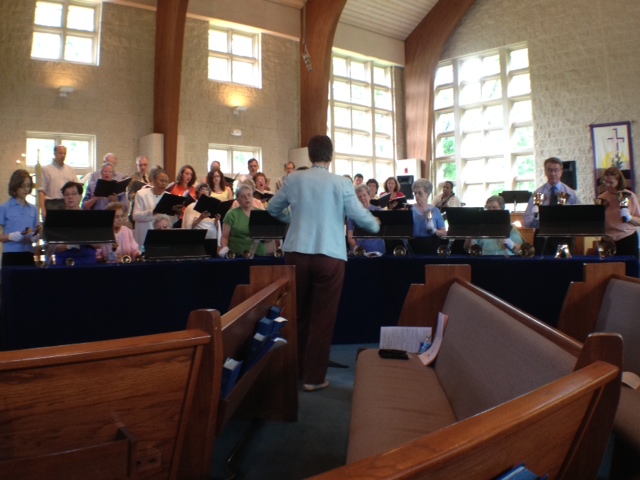 Psalm 100 proclaims that we are to "make a joyful noise unto the Lord!"
The gift of music has been a vital part of worship since the early church; at Christian Community Presbyterian Church, we firmly believe this gift can be expressed in a myriad of ways. CCPC offers worship music that ranges from the most beloved traditional hymns to current contemporary Christian music under the direction of Music Director Susan Ricci-Rogel and Worship Team Leader Kevin Clemence.
The Celebration Choir offers young people and adults the opportunity to sing God's praise through music that spans the great church literature of the past 400 years all the way to today's contemporary selections. The Worship Team and instrumental group Ekklesia use acoustic and electric guitar, full percussion, synthesizer and piano to offer praise songs and more recent anthems. An enthusiastic desire to sing to the Lord is all that is required of choir members.
CCPC's bell choir, Clinquant, offers a wide variety of special music throughout the year, especially at Christmas and Easter. Clinquant often performs with the vocal choirs to further enhance worship at CCPC, and is always accepting new ringers.
The CCPC Youth Orchestra is a recent addition to worship services. Young musicians are encouraged to discuss their interest with the Music Director.
Talented members and friends of CCPC who are instrumentalists also are featured during worship services in special preludes and offertories.
Celebration choir rehearses Wednesday evenings at 7 pm, and Clinquant practices Thursday evenings at 7 pm, September through May. Summer Choir meets 45 minutes before Sunday morning worship, and is a great place to try your voice in a more informal setting.
There's a place for you to share your musical gifts at CCPC and gain fellowship, inspiration, and a renewed sense of connection with your Christian faith. For more information, contact Music Director Susan Ricci-Rogel.