Rev. Dr. Kori Phillips McMurtry
CCPC's Newly Elected Pastor!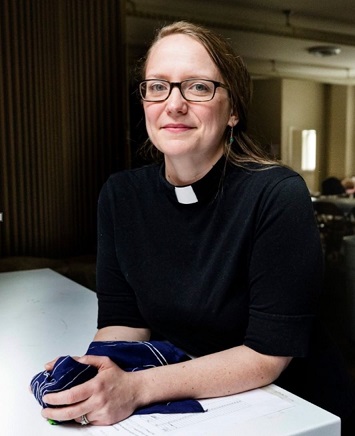 Rev. Dr. Kori Phillips McMurtry is a pastor, artist, mother, and scholar. She is an enthusiastic service-oriented leader that creatively seeks ways to incorporate spiritual journeys of past and present into worship and church life for the purpose of allowing faith to come alive for people of all ages.
Since 2018 Kori Phillips McMurtry has served as Pastor of First Presbyterian Church of Memphis, Tennessee, an old downtown church with a robust direct service ministry, feeding 80-100 guests hot meals every Sunday. There she oversaw a major building repair and sanctuary reconfiguration project. She led a committee restructuring project, equipping the leadership to meet the needs of the congregation, for their size and energy level, and pastored the community through the pandemic. Serving as President of the Downtown Churches Association, she seeks out connections with other faith and community leaders.
Alongside church members Kori developed "Faith Alive Sundays" a monthly worship service that is interactive & family friendly, including creative participatory elements as part of the regular worship service, centering around a theme for that day. The congregation explores that theme imaginatively, prayerfully, and intergenerationally, for the purpose of integrating the spiritual disciple of church attendance for all ages.
She is a 2005 graduate of Ohio Wesleyan University, with a BFA in graphic design and computer imaging, and from Princeton Theological Seminary (2012) with a Master of Divinity degree. Her doctoral work brings biblical women's stories to life in imaginative ways though story telling exercises, dramatic readings, and personal creativity. Phillips McMurtry's initial shock at the presence of stories of sexual violence within sacred scripture as a young adult gave way to a persistent calling for those very stories to be told, and to be the focus of her academic work. Her research details a way for faith leaders to introduce these stories that can lead to feelings of empowerment, connection, and solace for women and survivors of sexual violence and trauma—and the urgency for doing so within faith communities. A link to the presentation of her academic work, Rising from the Threshold: Empowering Women through Stories of Sexual Violence in the Bible, can be found here: https://youtu.be/vfFvarHbDrA. She received her Doctor of Ministry degree from Wesley Seminary in May 2021.
Not a stranger to National Capital Presbytery, her first installed position was Associate Pastor for Bradley Hills Presbyterian in Bethesda, MD. While there, Kori developed a flourishing adult small group program, led youth group, confirmation classes, mission trips, women and deacon's retreats. Her creativity found its way into worship, and other ministries. She worked with deacons, session, mission lay ministry, adult education, interfaith partnerships, and congregational life lay ministry.
A native of Dayton, Ohio, Kori served churches in Ohio, Florida, and New Jersey, as well as numerous nonprofit organizations, both before and during seminary. She also led youth conferences at Montreat and other PCUSA conference centers.
Before seminary, Kori served as a PCUSA Young Adult Volunteer in Peru and participated in and led mission projects for the PCUSA in Colombia. Other international projects have taken her to Guatemala, India, Cuba, and the Holy Land.
Kori is married to Ben McMurtry, and they have a 3 year old son. She is delighted at the opportunity to serve Christian Community Presbyterian Church as pastor and see where God is calling them together. She looks forward to connecting with colleagues from her early days in ministry in NCP and forming relationships with new ones!

Dr. McMurtry will start at CCPC in late January 2023.