We welcome you to worship with us, in-person or online,
Sundays at 10AM
Note: Per County guidelines, CCPC requires
the following for in-person worship:
Everyone in-person must wear a mask
Light singing is allowed, with mask on.
CCPC is on Facebook in two places:
ONLINE WORSHIP
November 28
10AM!
Streamed to our
Public Facebook Page
Sermon - Pastor Susan Graceson
DIRECT LINK to the Service on public FB page

Live! on Sundays
On-demand during the week.
Available to all - no FB account needed
Congregational Meeting - 12/9/21


7:30PM by Zoom
During All-church Check-in
Vote on slate of members for Pastoral Search Committee
Sunday School and Adult Ed
Adult Ed
CCPC (Dodds Hall) and by Zoom
Sundays at 11:30AM
December 5
"Community Nonprofits" - Kevin Maxwell
~~~~~
Adult Ed - Remaining in December
Dec 12 - "Meditations for Advent" - Ann Feming
Dec 19 - "Churches in Africa" - Gladys Ayuketah
Dec 26 - NO ADULT ED - Merry Christmas!
Previous
Nov. 28 - Mary Brock
Genesis in the Bible: Part II (recording)
Find more in the Archive!
Kids!
Sunday School
at 1130 by Zoom


NEW ID

: 818 6747 0301


K-5th grades


Elementary age - Every week
Middle and High School - Every other week
Straight From the Source Bible Study

Tuesday evenings - 7:30PM - By Zoom
Studying the Book of Acts
- Come join us!
Nov. 23, 2021
Acts 27
Recording
Lectionary Reading - Private Facebook group
With a short, daily devotion
Presented by Chuck Tanner, now in his 18th year of providing daily Lenten readings.

New Advent devotional series begins Nov. 29, 2021
Virtual Concert Series - December 5 - 4PM
On CCPC's Public Facebook page!
A Celtic Christmas
Pipers Randy Welch and Michael Binnie, with percussionist Robert Murray and Celtic harper Mary Fitzgerald combine their talents to present music from the British Isles, playing on Great Highland pipes, small Scottish pipes, whistle, guitar, bodhran, snare drum and Celtic harp.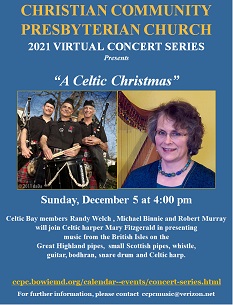 The Alternative Christmas Market!




One week remains

- Visit through Nov 30
The shopping fun can be found on the Alternative Christmas Market webpage!
Dick Arnold has joined the Alternative Christmas Market!
Dick will have his beautiful photos on a table in the Atrium; available for a $50 contribution to CCPC.
Click here for the details!
Concert Series

A Celtic Christmas

Coming December 5 at 4PM
Pipers Randy Welch and Michael Binnie, with percussionist Robert Murray and Celtic harper Mary Fitzgerald return with a program of seasonal music from the British Isles.

Diversity, Equity and Inclusion (DEI)

Formerly known as "Race and Diversity" and "Inclusion and Diversity"
How can I Help?

How CCPC members are helping in the community
Suggestions (with templates) for further action

Movie Nights

Previous movies watched: 13th, Just Mercy, Loving, American Son

Ears To Hear - A Podcast Club Meets Fridays at 6:30PM during a study
Matthew 25 Book Discussion Group

See our web page for updates and more information.
Previous books discussed:

Good White Racist? Microagressions in MInistry

CCPC's Prayer Chain

The Bible tells us to "Pray without ceasing," but it's hard to know who to contact when you have a concern or celebration that you would like to share with your church family. CCPC's Prayer Chain will help!
Patti Cable will coordinate the Prayer Chain by email (CCPCPrayers@aol.com), or by phone (Patti's home phone, not cell) found in the Directory.
Contact Patti to be added to the list, or for more details.
~~~~~~~~~
~~~~~~~~~~