CCPC is on Facebook in two places: Worship services - on Facebook
Direct links will be provided below, once available

Sunday, May 9, 2021

Sermon - Pastor Susan Graceson
Congregational Meeting - May 9 - Following worship
Purpose: To elect two Ruling Elders.
Recording of Meeting
In case you missed it!
Adult Ed, by Zoom -
Sundays at 11AM
Zoom Link at end of emailed Order of Worship
OR posted in CCPC's private Facebook group
Paul in Three Parts:
The Secular, The Letters, Controversy?
(May 16-30)

with Kevin Rice and Mary Brock
Yes, everything you wanted to know, but were afraid to ask
OR: Everything you already knew, and you will tell us more!
~~~~~
May 16
- The secular Paul - a brief sketch of his life and times,
the world he lived in, with at least two think-about-and-discuss questions
May 23 - The letters - a (very) brief sketch of each letter, with a
general discussion on one letter which we think will take most of the class
May 30 - The Controversies - Controversies successfully navigated by Mary!
Liberation Theology
(with Dick Neff) April 25 - May 9)
Recordings
may be found on the Adult Ed
Online Archives page
.
Straight From the Source Bible Study
Tuesday evenings - 7:30PM - Now by Zoom
Studying the Book of Acts
- Come join us!
May 4, 2021
Acts 13: 1-11
Recording
Lectionary Reading - Private Facebook group
With a short, daily devotion during Lent
Presented by Chuck Tanner, now in his 18th year of providing daily Lenten readings8
Of Interest​​​​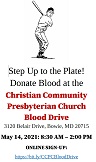 AAMC Blood Drive
May 14 - 8:30-2
CCPC Parking Lot
Sign up here!
Another AAMC Blood Drive!

Coming up on May 14, from 8:30-2
The need is great! Show your support and sign up!

The Race and Diversity Committee
Concert Series

Next concert: Malcom X Drummers and Dancers

Anne Street Trio - 5/2/21 concert

Outdoor Vesper Services

- Wednesdays -

6:30PM

- weather-permitting

Signup required, by calling or emailing the church (ccpcbowie@verizon.net)

Note: voicemails will only be returned if the service is full. No return call is good news - come along!

Details: CCPC's rear parking lot. Limited to 20 people. Bring your own chair, wear a mask and social-distance at all times.

CCPC's Prayer Chain

The Bible tells us to "Pray without ceasing," but it's hard to know who to contact when you have a concern or celebration that you would like to share with your church family. CCPC's new Prayer Chain will help!
Patti Cable will coordinate the Prayer Chain by email (CCPCPrayers@aol.com), or by phone (Patti's home phone, not cell) found in the Directory.
Contact Patti to be added to the list, or for more details.

COVID Vaccination Guidance - Prince Georges Residents

From Del. Geraldine Valentino-Smith