Fair Youth Sentencing Efforts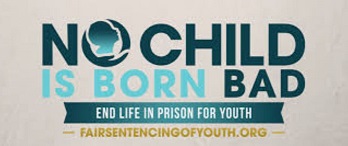 The 2021 Legislative Session has begun,
and help, both yours and mine, is needed
to encourage our Delegates and Legislators to
change this law!
Letter-writing campaign underway! First hearing is on Jan. 21!
Listen to the informational video on the left.
Write letters on your own, or join our zoom get-together, using the resources below.
First
Zoom
Get-together: Monday, Jan. 18 at 10AM:
Join us in our support of this bill to eliminate Maryland's sentence of Juvenile Life Without Parole. No child in Maryland should be sentenced to die in prison. The Maryland Senate has a hearing for this bill scheduled for January 21, so please contact your representatives by phone or email anytime between now and then. If you would like to work on it together, or have questions to discuss, join our
Zoom
on MLK,Jr. Day: Monday January 18 at 10:00am.

Resources to help:
Bill Summary
Authorizing a court, when sentencing a minor convicted as an adult, to impose a sentence less than the minimum term required by law; prohibiting a court from imposing a sentence of life without the possibility of parole or release for a minor; authorizing an individual convicted as an adult for an offense committed as a minor to file a motion to reduce the duration of the individual's sentence; requiring the court to conduct a hearing on a motion to reduce the duration of a sentence; etc.

First Step: Send to House Judiciary Committee

Most importantly, to:
Clippinger, Atterbeary, Cardin, Moon, Crutchfield and Malone
LUKE H. CLIPPINGER, Chair
Democrat, District 46, Baltimore City
House Office Building, Room 101
6 Bladen St., Annapolis, MD 21401
(410) 841-3488, (301) 858-3488
1-800-492-7122, ext. 3488 (toll free)
e-mail:

luke.clippinger@house.state.md.us


fax: (410) 841-3537, (301) 858-3537

VANESSA E. ATTERBEARY, Vice-chair
Democrat, District 13, Howard County
House Office Building, Room 101
6 Bladen St., Annapolis, MD 21401
(410) 841-3471, (301) 858-3471
1-800-492-7122, ext. 3471 (toll free)
e-mail:

vanessa.atterbeary@house.state.md.us


fax: (410) 841-3986, (301) 858-3986

CURTIS STOVALL (CURT) ANDERSON
Democrat, District 43, Baltimore City
House Office Building, Room 314
6 Bladen St., Annapolis, MD 21401
(410) 841-3291, (301) 858-3291
1-800-492-7122, ext. 3291 (toll free)
e-mail: curt.anderson@house.state.md.us
fax: (410) 841-3024, (301) 858-3024

LAUREN C. ARIKAN
Republican, District 7, Baltimore County & Harford County
House Office Building, Room 324
6 Bladen St., Annapolis, MD 21401
(410) 841-3334, (301) 858-3334
1-800-492-7122, ext. 3334 (toll free)
e-mail: lauren.arikan@house.state.md.us
fax: (410) 841-3598, (301) 858-3598

J. SANDY BARTLETT, Esq.
Democrat, District 32, Anne Arundel County
House Office Building, Room 163
6 Bladen St., Annapolis, MD 21401
(410) 841-3370, (301) 858-3370
1-800-492-7122, ext. 3370 (toll free)
e-mail: sandy.bartlett@house.state.md.us
fax: (410) 841-3437, (301) 858-3437

JON S. CARDIN
Democrat, District 11, Baltimore County
House Office Building, Room 217
6 Bladen St., Annapolis, MD 21401
(410) 841-3054, (301) 858-3054
1-800-492-7122, ext. 3054 (toll free)
e-mail:

jon.cardin@house.state.md.us


fax: (410) 841-3385, (301) 858-3385

FRANK M. CONAWAY, JR.
Democrat, District 40, Baltimore City
House Office Building, Room 314
6 Bladen St., Annapolis, MD 21401
(410) 841-3189, (301) 858-3189
1-800-492-7122, ext. 3189 (toll free)
e-mail: frank.conaway@house.state.md.us
fax: (410) 841-3213, (301) 858-3213

DANIEL L. COX
Republican, District 4, Carroll & Frederick Counties
House Office Building, Room 326
6 Bladen St., Annapolis, MD 21401
(410) 841-3288, (301) 858-3288
1-800-492-7122, ext. 3288 (toll free)
e-mail: dan.cox@house.state.md.us
fax: (410) 841-3184, (301) 858-3184

CHARLOTTE CRUTCHFIELD, Esq.
Democrat, District 19, Montgomery County
House Office Building, Room 226
6 Bladen St., Annapolis, MD 21401
(410) 841-3485, (301) 858-3485
1-800-492-7122, ext. 3485 (toll free)
e-mail:

charlotte.crutchfield@house.state.md.us


fax: (410) 841-3875, (301) 858-3875

DEBRA M. DAVIS, Esq.
Democrat, District 28, Charles County
House Office Building, Room 204
6 Bladen St., Annapolis, MD 21401
(410) 841-3337, (301) 858-3337
1-800-492-7122, ext. 3337 (toll free)
e-mail: debra.davis@house.state.md.us
fax: (410) 841-3277, (301) 858-3277

WANIKA B. FISHER, Esq.
Democrat, District 47B, Prince George's Counties
House Office Building, Room 206
6 Bladen St., Annapolis, MD 21401
(410) 841-3340, (301) 858-3340
1-800-492-7122, ext. 3340 (toll free)
e-mail: wanika.fisher@house.state.md.us
fax: (410) 841-3239, (301) 858-3239

ROBIN L. GRAMMER, JR.
Republican, District 6, Baltimore County
House Office Building, Room 307
6 Bladen St., Annapolis, MD 21401
(410) 841-3298, (301) 858-3298
1-800-492-7122, ext. 3298 (toll free)
e-mail: robin.grammer@house.state.md.us
fax: (410) 841-3007, (301) 858-3007

MICHAEL GRIFFITH
Republican, District 35B, Cecil & Harford Counties
House Office Building, Room 319
6 Bladen St., Annapolis, MD 21401
(410) 841-3444, (301) 858-3444
1-800-492-7122, ext. 3444 (toll free)
e-mail: mike.griffith@house.state.md.us
fax: (410) 841-3190, (301) 858-3190

LESLEY J. LOPEZ
Democrat, District 39, Montgomery County
House Office Building, Room 221
6 Bladen St., Annapolis, MD 21401
(410) 841-3021, (301) 858-3021
1-800-492-7122, ext. 3021 (toll free)
e-mail: lesley.lopez@house.state.md.us
fax: (410) 841-3375, (301) 858-3375

MICHAEL E. MALONE
Republican, District 33, Anne Arundel County
House Office Building, Room 164
6 Bladen St., Annapolis, MD 21401
(410) 841-3510, (301) 858-3510
1-800-492-7122, ext. 3551 (toll free)
e-mail:

michael.malone@house.state.md.us


fax: (410) 841-3235, (301) 858-3235
SUSAN K. McCOMAS
Republican, District 34B, Harford County
House Office Building, Room 323
6 Bladen St., Annapolis, MD 21401
(410) 841-3272, (301) 858-3272
1-800-492-7122, ext. 3272 (toll free)
e-mail: susan.mccomas@house.state.md.us
fax: (410) 841-3202, (301) 858-3202

DAVID MOON
Democrat, District 20, Montgomery County
House Office Building, Room 220
6 Bladen St., Annapolis, MD 21401
(410) 841-3474, (301) 858-3474
1-800-492-7122, ext. 3474 (toll free)
e-mail:

david.moon@house.state.md.us


fax: (410) 841-3445, (301) 858-3445

JESSE T. PIPPY
Republican, District 4, Carroll & Frederick Counties
House Office Building, Room 326
6 Bladen St., Annapolis, MD 21401
(410) 841-3118, (301) 858-3118
1-800-492-7122, ext. 3118 (toll free)
e-mail: jesse.pippy@house.state.md.us
fax: (410) 841-3462, (301) 858-3462

EMILY K. SHETTY, Esq.
Democrat, District 18, Montgomery County
House Office Building, Room 224
6 Bladen St., Annapolis, MD 21401
(410) 841-3181, (301) 858-3181
1-800-492-7122, ext. 3181 (toll free)
e-mail: emily.shetty@house.state.md.us
fax: (410) 841-3232, (301) 858-3232

BRENDA JEANETTE THIAM, Ph.D.
Republican, District 2B, Washington County
House Office Building, Room 213
6 Bladen St., Annapolis, MD 21401-1991
(410) 841-3125, (301) 858-3125
1-800-492-7122, ext. 3125 (toll free)
e-mail: brenda.thiam@house.state.md.us
fax: (410) 841-3414, (301) 858-3414

RONALD L. WATSON, Ph.D.
Democrat, District 23B, Prince George's County
House Office Building, Room 207
6 Bladen St., Annapolis, MD 21401
(410) 841-3448, (301) 858-3448
1-800-492-7122, ext. 3448 (toll free)
e-mail: ron.watson@house.state.md.us
fax: (410) 841-3495, (301) 858-3495

NICOLE A. WILLIAMS
Democrat, District 22, Prince George's County
House Office Building, Room 209
6 Bladen St., Annapolis, MD 21401
(410) 841-3058, (301) 858-3058
1-800-492-7122, ext. 3058 (toll free)
e-mail: nicole.williams@house.state.md.us
fax: (410) 841-3119, (301) 858-3119

Later, to Senate Committee:
William C. Smith, Jr., Chair
Democrat, District 20, Montgomery County
Miller Senate Office Building, 2 East Wing
11 Bladen St., Annapolis, MD 21401
(410) 841-3634, (301) 858-3634
1-800-492-7122, ext. 3634 (toll free)
e-mail: will.smith@senate.state.md.us

Jeffrey D. Waldstreicher, Vice-Chair
Democrat, District 18, Montgomery County
Miller Senate Office Building, 2 East Wing
11 Bladen St., Annapolis, MD 21401
(410) 841-3137, (301) 858-3137
1-800-492-7122, ext. 3137 (toll free)
e-mail: jeff.waldstreicher@senate.state.md.us

JILL P. CARTER, Esq.
Democrat, District 41, Baltimore City
Miller Office Building, Room 422
11 Bladen St., Annapolis, MD 21401
(410) 841-3697, (301) 858-3697
e-mail: jill.carter@senate.state.md.us

ROBERT G. CASSILLY
Republican, District 34, Harford County
James Senate Office Building, Room 401
11 Bladen St., Annapolis, MD 21401
(410) 841-3158, (301) 858-3158
1-800-492-7122, ext. 3158 (toll free)
e-mail: bob.cassilly@senate.state.md.us

SHELLY L. HETTLEMAN
Democrat, District 11, Baltimore County
James Senate Office Building, Room 203
11 Bladen St., Annapolis, MD 21401
(410) 841-3131, (301) 858-3131
1-800-492-7122, ext. 3313 (toll free)
e-mail: shelly.hettleman@senate.state.md.us

MICHAEL J. HOUGH
Republican, District 4, Carroll & Frederick Counties
James Senate Office Building, Room 403
11 Bladen St., Annapolis, MD 21401
(410) 841-3704, (301) 858-3704
1-800-492-7122, ext. 3704 (toll free)
e-mail: michael.hough@senate.state.md.us

SUSAN C. LEE
Democrat, District 16, Montgomery County
James Senate Office Building, Room 223
11 Bladen St., Annapolis, MD 21401
(410) 841-3124, (301) 858-3124
1-800-492-7122, ext. 3124 (toll free)
e-mail: susan.lee@senate.state.md.us
JUSTIN D. READY
Republican, District 5, Carroll County
James Senate Office Office Building, Room 315
11 Bladen St., Annapolis, MD 21401
(410) 841-3683, (301) 858-3683
1-800-492-7122, ext. 3683 (toll free)
e-mail: justin.ready@senate.state.md.us

CHARLES E. SYDNOR III
Democrat, District 44, Baltimore County
James Senate Office Building, Room 216
11 Bladen St., Annapolis, MD 21401
(410) 841-3612, (301) 858-3612
1-800-492-7122, ext. 3612 (toll free)
e-mail: charles.sydnor@senate.state.md.us

CHRISTOPHER R. (CHRIS) WEST
Republican, District 42, Baltimore County
James Senate Office Building, Room 303
11 Bladen St., Annapolis, MD 21401
(410) 841-3648, (301) 858-3648
1-800-492-7122, ext. 3648 (toll free)
e-mail: chris.west@senate.state.md.us

RONALD N. YOUNG
Democrat, District 3, Frederick County
James Senate Office Building, Room 301
11 Bladen St., Annapolis, MD 21401
(410) 841-3575, (301) 858-3575
1-800-492-7122, ext. 3575 (toll free)
e-mail: ronald.young@senate.state.md.us
~~~~~~~~~~~~~~~~~~~~~~~~~~~~~~